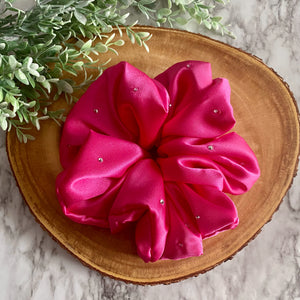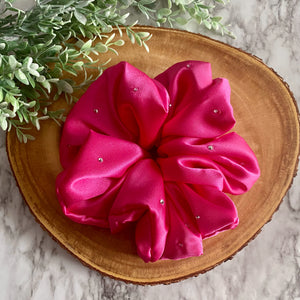 Bedazzled Barbie Scrunchie
Our scrunchies are soft, smooth, comfortable, durable, and for all hair types!. They can wrap around your hair without pulling or snagging it. Great for growing your hair and protecting from breakage.
* available in two sizes *
Add color to your day with this fashionable bright color scrunchie. You can tie it around your basic ponytail to spice up your style, add it to the end of your braid, or even around the base of your bun.
Most of all, our satin scrunchie will not damage your hair.
- One size fits all
- Perfect for sleeping in
- Ideal for any hair type
- Great gift for any occasion
- Preserves hair strength
- Can use to style your hair in multiple ways
- Suitable for all
These cute satin scrunchies are made with carefully chosen elastics so it has the right elasticity to it. Its elegant look is a perfect gift for girls or bridesmaid gifts at your wedding (we can also try to match whatever colour you may need. 


for delivery please DM us on Instagram or email at bullyboutiqueinfo@gmail.com